Dr. Amin Hassani
An internationally trained ophthalmologist who passed the Canadian Standard Assessment in Optometry (CSAO), and obtained his license to work as an optometrist in 2011.
Completed his MD from the Medical Sciences University in Tehran, Iran, followed by four years of residency in Ophthalmology, and secured 1st place in the Iranian National Board of Ophthalmology Examinations.
Has been working and treating patients in his private clinic in Tehran where his knowledge and experience is well recognized by his peers and appreciated by countless patients he helped. He is an expert in diagnosing, treating and caring for patients in need of vision care.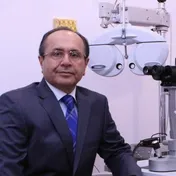 Late Dr. Farhad Saba O.D

It is with deep regret that we announce the passing away of our valued colleague, Dr. Farhad Saba. He was the founder of Total Eye Care Centre Optometry since 2009. He was an internationally trained ophthalmologist with the following degrees and honours:
Passed CSAO. Licensed as a Doctor of Optometry in Canada 2008.
Fellow Neuro ophtholmology orbit and oculoplastic surgery St John
health System Warren Michigan 2002-2003.
Neuro-Ophtholmology Fellowship University of British Columbia July
2000-June 2001.
M.S. Ophtalmology. Residency Kuvempo University, India 1990-1993
secured first rank and was honored by a gold medal.
He will be missed and always be remembered by us all.